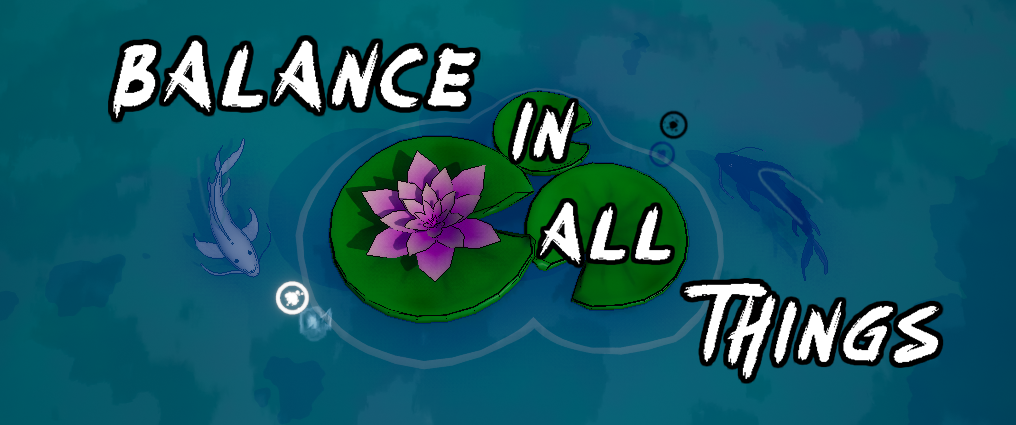 Balance In All Things
A downloadable game for Windows
Balance In All Things aims to be a relaxing atmospheric experience where you control two koi fish to collect matching color orbs in order to help them grow to their full potential.
This game was made in 5 days for the 2019 Spring Unreal Engine 4 Game Jam based on the theme "The other side of the coin".
My interpretation of the theme and idea for the game came about when I couldn't think about one side of a coin without considering the other side. My thoughts lead me to ideas about duality and connection. Yin and Yang describes how seemingly opposite or contrary forces may actually be complementary and interconnected. Two sides of the same coin.
If you enjoy the game or have any feedback, leave a comment! I would love to hear from you!
Discord: MetricZero#6308
Credits:
The following websites provided the audio which was taken and edited for the purpose of this personal project:
https://www.cinematique-instruments.com/index.php
https://freetousesounds.com/
http://soundbible.com/
All other assets made by MetricZero during the 2019 Spring UE4 Game Jam.
Download
Click download now to get access to the following files:
BleedTimeStudio_BalanceInAllThings.zip
112 MB
Comments
Log in with itch.io to leave a comment.
Very sweet game with a lovely concept. Great job!
I think the theme of the Jam is perfectly interpreted!
I'm using azerty keyboard so I've just been able to use A and D but after a quick adaptation I've been able to catch some bubbles and the brain mechanic is very pleasant.
I really loved the atmosphere as well as the visual style (and I love fishes, of course).
I've never had a phone who can run games however I think with a score system it would be a very nice mobile game that you could sell on a store!!
Good work ;)
Thank you! <3

I wanted to also thank you again for when we spoke a long time ago, you helped me figure out how to mask out bubbles based on world height so they don't appear above water and instead fade out as they get to the water's surface.

Learned a lot about water and underwater from you and really do appreciate that.

I still don't even know 1% of the engine possibilities after years but I'm always happy to help and share my bit of knowledge ;)
Hey this is a really beautiful game, amazing what you managed in the short time we all had in the Unreal 4 Jam!
You nearly missed the sub-100MB category! I#m curious if you went for that?
If you're interested, check out my game too "Clash of Coins" a 2 player fighting game, and let me know what you think: https://zwizausch.itch.io/clash-of-coins
Best wishes from Berlin.
Thank you so much!

I pulled 2 all nighters to finish the visuals in time and really just wanted to polish the heck out of it.

Also really tried hard to get that 100MB. There's some plugins that I think could have been deleted that were included with the standard build, like support for VR and the Redist which probably would have brought it below 100MB. But maybe that would break things if people didn't have them installed already, I'm not sure.

The content files themselves only hit about 50MB. It's just all the Engine files included. So if they don't count those, it's under 100MB. Fingers crossed!

When I've recovered I'd really like to make a breakdown of everything that went into this.
Well it definitely paid out!

Two members of my team and I pulled an all-nighter too haha. I'm really looking forward to a good sleep tonight.

Yes please do that, that would be very interesting!
I'm crossing fingers too, you are so close to the 100MB!

Awesome game, truly captures the meaning behind the word "balance" with its simple yet rewarding gameplay, visually-pleasing aesthetics, and its soft, soothing audio. A great break from the hectic trials of everyday life. Kudos!
Hey I figured out it would only be fair to try out your game, to be fully honnest, not my kind of game at first sight, but boy I was wrong the vibe is really well done, you truely nailed the serenity and balance concept there with the sounds and the graphics matching perfectly the mood.
Really relaxing, it would be a killer as a mobile game.
Well done.
I'm really happy to hear that!

The game was almost a disaster until I had some friends play test it about halfway through the jam. They helped me focus in on the idea of creating feedback by interaction with the world, i.e. growing larger as you collect more orbs and having a resolution.

Before that, it was actually just an endless collection game to make chimes and that somehow had the opposite effect of stressing people out!

Cheers!
Calming and also addicting, i recommend trying it!
Great idea for the game! :)